By Christopher Ingraham, Minnesota Reformer
As the summer winds down, the Department of Natural Resources has released a survey of visitors to Minnesota's state parks. Overall it paints a cheery portrait of the parks and their visitors, showing increasing diversity among park users, a significant and positive effect on the state economy and enthusiasm for new initiatives.
This positivity has been ably reflected in media coverage of the survey, but here at the Reformer we couldn't help but notice that a small minority of respondents gave rather dour assessments of the parks they were visiting. Just as every rose has its thorn and every lake has its mosquito, every state park has a certain type of visitor who, when faced with the splendor of nature, will cross his arms and say "meh."
In the summer of 2022 DNR employees fanned out across the state, going to every single park and interviewing more than 2,000 visitors. One of the key questions they asked was about overall satisfaction, allowing respondents to say how happy they were with their visit on a scale ranging from "very dissatisfied" to "very satisfied."
Statewide the overwhelming majority of visitors — 82% — rated themselves as "very satisfied," with another 14% choosing "somewhat" satisfied.
The DNR didn't break these responses down to the individual park level, since at some of the smaller parks (looking at you, Franz Jevne) they only interviewed a handful of people. But they did aggregate responses by regions: northwest, northeast, central and southern. Check out the DNR map below to see which parks are located where.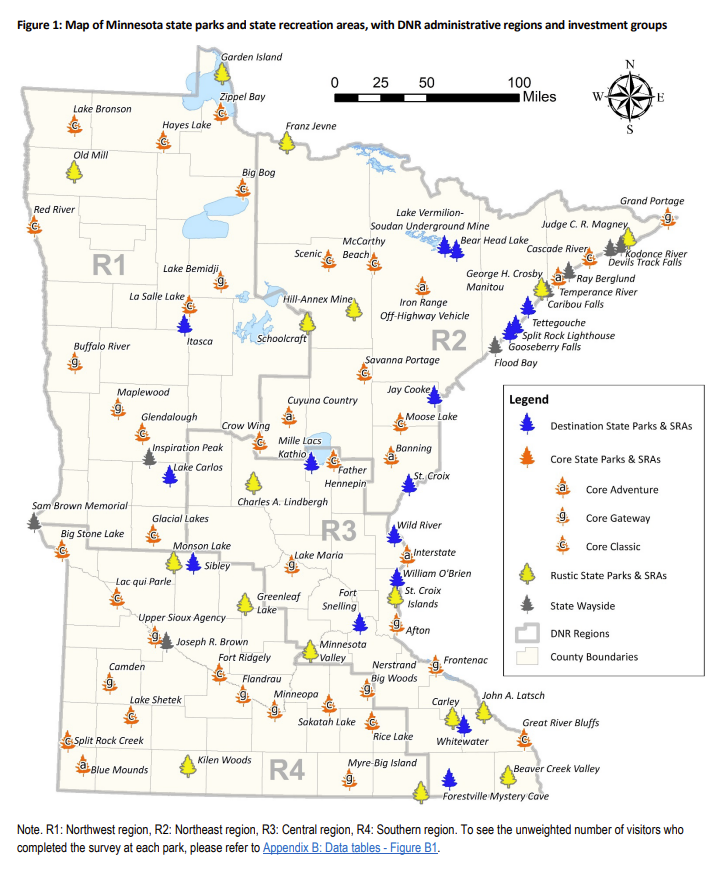 The highest overall satisfaction was with the parks in the northeast region, which includes Lake Superior's North Shore and all the scenic waterfalls pouring into it. About 97% of visitors to that region rated themselves satisfied with their experience.
The other three regions were more or less tied for second place in terms of overall satisfaction, with rates of 96% in the central region, 95% in the southern area, and a relatively paltry 92% for northwestern parks.
One way to think about these numbers is to invert them: Fully 8% of visitors to northwest parks reported being something other than satisfied with their trip. That's nearly three times the dissatisfaction rate of the northeastern parks.
Perhaps the most surprising thing about the numbers is how well the northwestern region fares overall, considering there is somewhat famously not a whole lot going on, scenically speaking, in that part of the state. People just really like getting outside and touching grass, and it makes little difference whether they're contemplating the majesty of Gooseberry Falls or admiring the considerably humbler charms of Old Mill State Park in the Red River Valley.
We'd also caution you about reading too much into these numbers. A few percentage points of satisfaction isn't much of a difference when it comes to survey findings, and the visitor sample used in this survey is, by necessity, not a statistically representative slice of either the entire state or all park visitors.
Still, it's always nice to know which areas are at the top of the list, as well as the places that could perhaps use a little improvement.
Minnesota Reformer is part of States Newsroom, a network of news bureaus supported by grants and a coalition of donors as a 501c(3) public charity. Minnesota Reformer maintains editorial independence. Contact Editor Patrick Coolican for questions: info@minnesotareformer.com. Follow Minnesota Reformer on Facebook and Twitter.
Comments