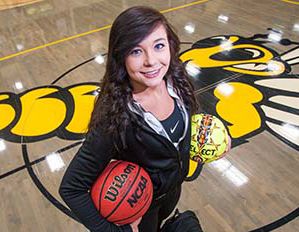 Hailey Kontny's decision to transfer to the University of Wisconsin-Superior after her freshman year at the University of Minnesota Duluth was a 'homecoming' in every sense of the word. The hometown basketball standout thrilled fans on the court at Superior High School, leading the Spartans to back-to-back WIAA games, and said she returned to Superior, "to be part of another winning team."
Now in her final days as a Yellowjacket before graduating with a Bachelor of Science degree in Physical Education, Hailey reflected on her decision, saying it was one of the best she ever made.
More than just a number
"UW-Superior felt like a family from day one," she said. "I was welcomed warmly by teammates, classmates, and everyone I met. My professors knew me by name – I wasn't just a number. This school gave me the opportunity to grow not only as an athlete or student, but as a person."
Like her points on the scoreboard (averaging 15.7 points per game), Hailey racked up numerous honors and accolades during her time here. She has been the UMAC Player of the Year for three years, was selected to the 2016-17 Collegiate Sports Information Directors of America Academic All-District, and this year received the honor she says she's most proud of – Scholar Athlete of the Year.
Hailey will graduate Summa Cum Laude, having achieved a cumulative grade-point average (GPA) of 3.91.
"It amazes me how Hailey has been able to carry herself in all her years," said Zach Otto-Fisher, Head Women's Basketball Coach. "She has carried 18-21 credits each semester, and is a great example of what it means to be a student-athlete at UW-Superior, exceling in the classroom and on the court at a very high level."
A rich legacy
Hailey's family has a rich legacy as Yellowjackets. Her father, Dave Kontny, graduated from UW-Superior with a teaching degree and played basketball on the same court as Hailey, and her brother, Derek, earned a degree in biology and chemistry here.
Hailey plans to follow in her father's footsteps coaching basketball and teaching physical education at the elementary, middle or high school level. The many relationships she's developed while on campus will undoubtedly serve her well.
"Professors, coaches and staff here really want you to learn and grow as a person, not just academically," she said. "They go the extra mile to guide you in the right direction."
Hailey not only excelled on the basketball court and classroom, she shined on the soccer field as well, starting in all 18 games this year.
"This year, I decided to 'walk on' for soccer," she said. "I'd never played before, but Coach Allison DeGroot was super supportive and she and the other players taught me everything I needed to know. Where else could I have played two sports and maintained a full credit load? I loved playing soccer and I'm so glad I did it."
Reflecting on her time as a student, Hailey said there's one memory that captures what UW-Superior is all about. She recalled when a professor tripped on her way to class and dropped a bunch of books and paper.
"Within a second, a bunch of people ran to help her pick everything up and make sure she was OK," she said. "That's the kind of people you find here at UW-Superior. They care about one another, help each other, and are a community."
"If I had to choose one word to describe my experience at UW-Superior, it would be 'dream,' because my experience here truly has been a dream. UW-Superior is the best of both worlds – you have all the opportunities that a larger university offers, but with a small campus atmosphere. I've been pushed and challenged academically, but also supported every step of the way."
Comments