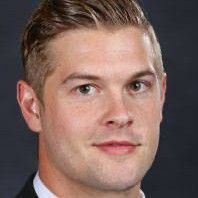 It did not take long for the Minnesota Wilderness to fill its coaching vacancy. The NAHL franchise today announced Colten St. Clair as the sixth head coach in team history. His hiring comes just one week after Brett Skinner departed to lead the coaching staff of the Fargo Force of the USHL.
The 30-year-old St. Clair has spent the last two seasons as associate head coach of the USHL's Sioux City Musketeers. In his first season with Sioux City, he helped guide the team to a Clark Cup championship. Before the start of the 2022-23 campaign, the role of assistant general manager was added to his duties.
"I'm really excited," St. Clair said. "Mr. (Barry) Bohman (Wilderness owner) and Mr. (David) Boitz (Wilderness general manager) gave me the chance to learn and grow to carry on the tradition and bring another championship to the Wilderness."
Prior to joining the Musketeers staff, St. Clair spent two seasons as an assistant coach with the Omaha Lancers of the USHL, one season as a volunteer assistant with the University of Maine and was introduced to the coaching ranks with the Phoenix Knights of the WSHL.
In Phoenix, he started as an assistant coach and skills instructor in 2016-17, before being promoted to head coach the following season.  In his first campaign as a bench boss, St. Clair took a team that won 5 games the year before to 28 wins in 2017-18.  That turnaround, when he was only 25-years old, made history, as it earned him the distinction of being the youngest coach ever to win the WSHL's coach of the year award.
"Colten is an outstanding young coach," said Boitz.  "We are extremely excited to bring him in to be our next head coach. Based on his passion for the game, commitment, and organization, we felt that Colten was by far our first choice among a very talented group of applicants."
St. Clair, a Gilbert, AZ, native, spent almost his entire adult playing career in North Dakota.  His Jr. A tenure was spent in Fargo where he played three seasons with the Force.  He then went north to the University of North Dakota where he played five seasons of NCAA hockey, which included helping the Fighting Hawks win a national title in 2016. St. Clair was an alternate captain on that championship squad.
St. Clair also had a short professional career—six games in 2016-17 with the Arizona Outlaws of the Mountain West Hockey League.
St. Clair's resumé shows some similarities to Skinner's, as both won NCAA championships in their playing careers (Skinner with Denver in '04 and '05) and both were on the coaching staff of Clark Cup winners (Skinner with Sioux Falls in 2019).
St. Clair said he spoke with Skinner over the last few days and the former Wilderness coach encouraged him to pursue his old job.
"I respect him a lot," said St. Clair. "I talked to him for about 45 minutes about his experience with the Wilderness, and he's been nothing but a great help."
One possible reason for St. Clair's early success in his coaching career could be the influence of those that coached him in his playing career.  Those mentors include United State Hockey Hall of Famer Dean Blais, who was head coach/GM of Fargo in St. Clair's first season of Jr. hockey. Blais is best known for his 18 seasons as a head coach in the NCAA, where he won two national championships with North Dakota.
While in Fargo, St. Clair also played under Jason Herter, who is currently the associate head coach at Western Michigan University and is a former assistant/associate head coach at Minnesota-Duluth, where he helped guide the Bulldogs to two NCAA titles.
At North Dakota, St. Clair's coaches included Dave Hakstol, who is now behind the bench of the NHL's Seattle Kraken, and current Fighting Hawks head coach Brad Berry.
St. Clair's priority now is to get better acquainted with the Wilderness staff, including assistant coach Patrick Munson, getting to know the players tendered for next season and prepare for the NAHL draft, set for June 14.
He and his girlfriend, Sydney Raboin, plan to find a residence in the Cloquet area by early August.
Comments