By Kelli Latuska
The public is invited to comment on the proposed commemorative naming of the stone pavilion at Lincoln Park. The public comment period will close on Friday, July 14, 2023.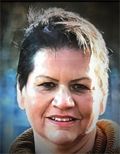 A request has been submitted to the City seeking to name the stone pavilion at Lincoln Park in honor and memory of late Duluth City Councilor Renee K. Van Nett. Additional information about the request and a comment form is available at https://duluthmn.gov/parks/parks-planning/progress-in-the-park/lincoln-park-pavilion-naming/.
After the public comment period closes, comments will be reviewed by the City, and a recommendation will be brought forth to City Council.
For more information about the project, contact Parks and Recreation at (218) 730-4300 or via email at parks@duluthmn.gov.
Note: The existing stone pavilion is located in Lincoln Park. A request has been summited by Councilor Terese Tomanek, on behalf of Councilors Arik Forsman, Hannah Alstead and Janet Kennedy and Community members, seeking to recognize Councilor Renee K. VanNett:
"A request is being made to name the pavilion at Lincoln Park in honor and memory of Councilor Renee K. VanNett. Renee was the first Native woman to be elected to Duluth's city council and the first Native person to be council president. The park lies within Renee's former district, District 4. Councilor VanNett worked for the good of all people, concentrating on the 'nuts and bolts issues' of her constituents. She considered places to recreate and be with family as one of those issues, as family was of utmost importance to her. Renee was an enrolled member of Red Lake, part of the Ojibwe people of this area. It is fitting that we name the pavilion in memory of the people who first inhabited the land on which the parks sits."
On June 14, 2023, the Parks and Recreation Commission passed a motion to support the commemorative naming of the Lincoln Park stone pavilion in honor and memory of Councilor Renee K. VanNett.
Comments