By Christopher Ingraham, Minnesota Reformer
Air pollution in the Twin Cities likely hit an all-time high this week, according to preliminary observations from the Minnesota Pollution Control Agency.
The agency reported a 24-hour air quality index value of 175 on Wednesday, indicating a level of airborne particle exposure equivalent to smoking four cigarettes. A typical AQI value for the Twin Cities in June is around 33, according to data from the Environmental Protection Agency.
After spiking in January, according to EPA data, air pollution in the Twin Cities hovered near or below five-year averages for most of the remaining winter and spring months. In May, however, pollution spiked again as an initial round of Canadian wildfire smoke made its way southward. A similar event is responsible for the recent high readings.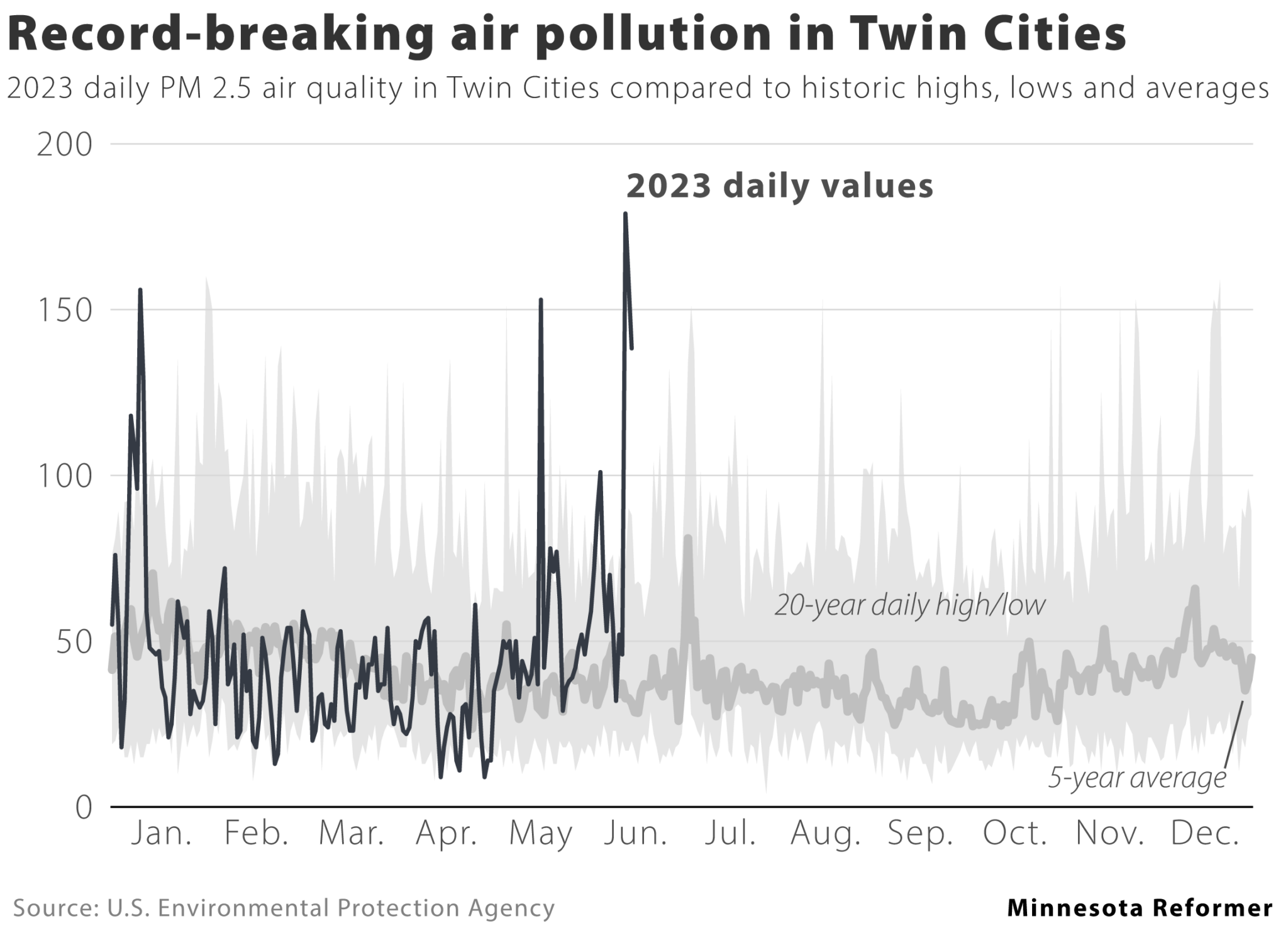 "The pollutant of most concern from wildfire smoke is fine particulate matter (PM 2.5)," the Minnesota Department of Health explains. "PM 2.5 from wildfire smoke is damaging to human health because it has the ability to deeply penetrate lung tissue and even affect the heart and circulatory system."
A relatively new and rapidly growing body of research has linked PM 2.5 exposure to various physical and mental ailments. Some of the strongest links are between chronic PM 2.5 exposure and cognitive decline, including increased rates of Alzheimer's and Parkinson's diseases.
Other work has shown that even short-term exposure to PM 2.5 leads to measurable declines in workplace productivity, student test scores and overall cognitive performance. In most studies, signs of decline appear at pollution levels well below what most of Minnesota experienced this week.
This summer's smoke is being driven by a Canadian wildfire season that's started much earlier than usual, and which is expected to last until the fall or winter. More smoke events are likely to follow, representing what may be a new normal in an era of human-driven warming: summers punctuated by smoke-filled skies bearing hazardous pollutants earthward.
That smoke is starting to reverse decades of air quality gains under the Clean Air Act that collectively added years to American lives.
In the recent legislative session, Minnesota lawmakers took some steps to improve air quality in the state, including expanded air monitoring in some communities and more stringent testing and reporting requirements for businesses that emit pollutants.
None of those actions, however, will have an effect on the wildfire situation in Canada, underscoring how smoky skies are a problem that transcends state and country borders. Any effort to mitigate that smoke would require cooperation between and among states and countries.
Until then, the best way to protect yourself is to avoid strenuous outdoor activity on smoky days, run an air purifier in your house, and otherwise sit back and watch the records fall.
Minnesota Reformer is part of States Newsroom, a network of news bureaus supported by grants and a coalition of donors as a 501c(3) public charity. Minnesota Reformer maintains editorial independence. Contact Editor Patrick Coolican for questions: info@minnesotareformer.com. Follow Minnesota Reformer on Facebook and Twitter.
Comments