By Madison McVan, Minnesota Reformer
Minnesota stoners breathed a sigh of relief on Tuesday as they smoked in public for the first time without fear of legal repercussions.
Many thought they'd never see Minnesota legalize recreational marijuana.
"I've been waiting 55 years for this," said Gary Cardinal Sr., who sat on the patio of Midway Saloon in St. Paul, listening to a band cover Bob Marley and offering other patrons the chance to use his "Bong-O-Matic." That's his moniker for a contraption he built with tubing and a three-gallon water bottle that allows for maximum smoke intake, the cannabis equivalent of a keg stand.
As recently as a year ago, a scene like this seemed unlikely, as Republicans controlled the state Senate and were opposed to legalization. Then Democrats took narrow majorities in both chambers of the Legislature, and now Minnesota is an island of cannabis freedom in the Upper Midwest.
While sales of marijuana flower are still illegal as the state organizes its Office of Cannabis Management, people 21 and up can legally grow up to eight cannabis plants, and be in possession of up to two ounces of cannabis on their person and two pounds of cannabis in their homes.
The law also directs the Minnesota Bureau of Criminal Apprehensions to expunge, or seal, some cannabis-related criminal records. The BCA estimates around 66,000 records will be automatically expunged, and another 230,000 records would be eligible for review.
Not everyone can partake in the new freedom. Because cannabis is still illegal under federal law, people who are not U.S. citizens could jeopardize their immigration status if they are found to be marijuana users, or to have participated in the sale or distribution of cannabis.
While they wait for the permitting process to get up and running, businesses can still sell low-dose THC edibles and beverages, legalized during the 2022 legislative session.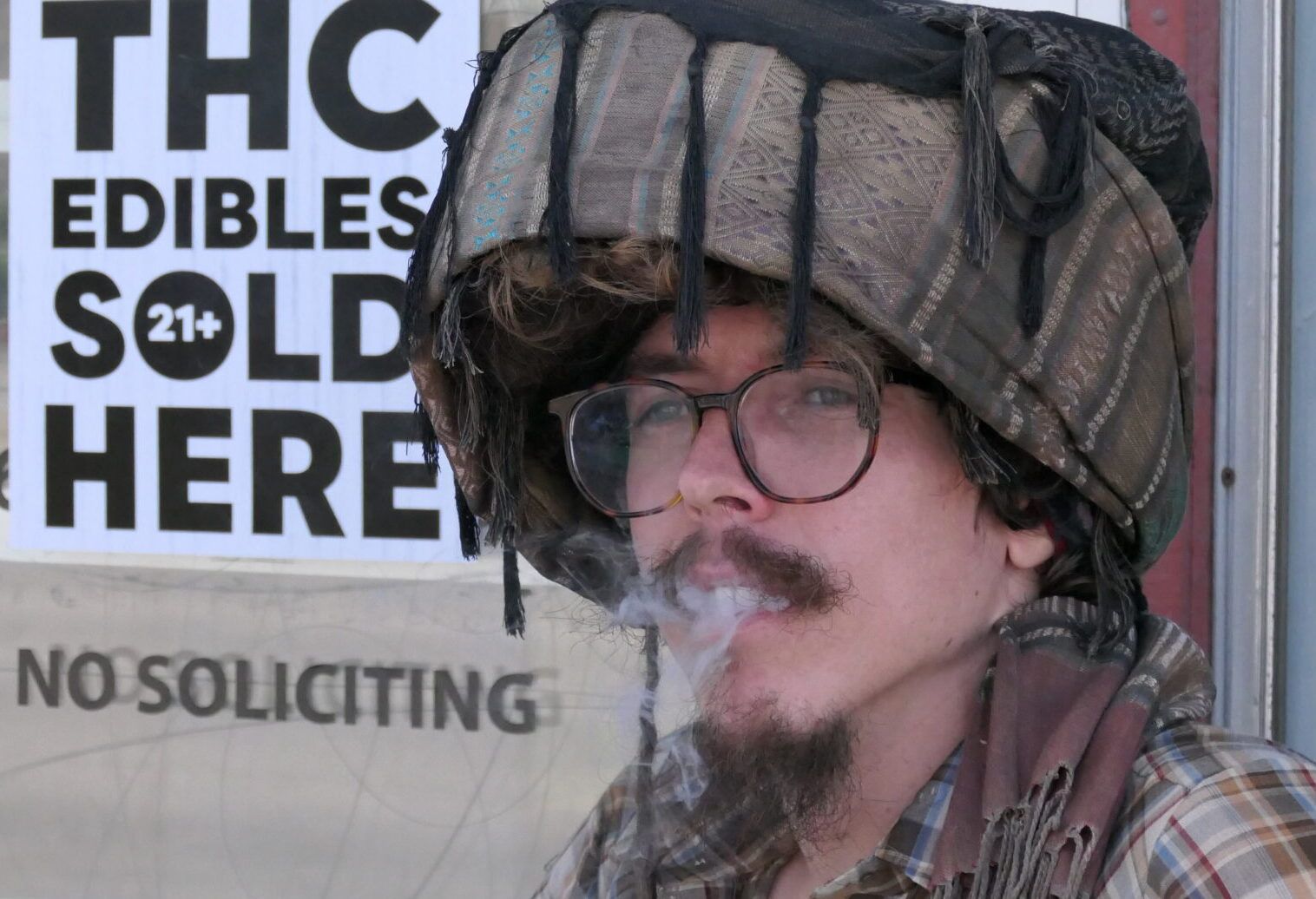 Watchtower Dispensary co-owner Mark Bartholomew sat on a stool outside his business Tuesday afternoon, smoking a joint and selling THC and CBD products to patrons outside. Inside, construction was underway to prepare for the company's expected expansion.
Bartholomew said he's happy with the legislation — minus one section, that prohibits HHC, a hydrogenated derivative of THC that was legal under the previous laws. Bartholomew had to pull about 30% of his products from the shelves because of the rule, he said.
He's optimistic that within a year, Watchtower will have a license to sell cannabis. The business's hemp farm in Pine City is prepped to start growing cannabis as soon as the license comes in, Bartholomew said.
A current underground cannabis dealer was not too bothered by the day's events.
The seller, who was granted anonymity to talk openly about their unlicensed sales, is a married, middle-aged person who lives in the Twin Cities metro area. They sell weed to supplement the income from their regular full-time job, and say the legalization of edibles last year didn't really affect them because most of their customers purchase flower, which is the new lingo for smokeable pot.
"I like what I hear" about Minnesota's approach to legalization, they said. "It gives people opportunities to grow their own and make it cheaper for themselves and I think that's great."
They plan to continue selling despite legalization, as they're able to offer products at anywhere from a quarter to one half the prices currently seen in the state's medical dispensaries.
"A lot of the reason why I'm still doing this is because I am a medical patient with a cannabis card," they said. "I have been to the dispensaries and they're just way too expensive. Cost is a big issue."
Because marijuana use is so widespread and socially accepted, they don't worry too much about law enforcement and don't expect that situation to change with legalization.
"I think [the police] are kind of done with enforcing anyway," they said. "Recently I got pulled over and we were smoking in my car and the cop was like 'You know you're not supposed to smoke while driving, right?'" The officer let them go.
Racial justice advocates hope legalization will curtail racial profiling; police have often used the smell of cannabis as justification for constitutionally dubious searches of people and cars.
Like with tobacco, smoking indoors is still banned. But private businesses, like bars and concert venues, can make their own policies about cannabis use on their premises. Cities can also decide whether using marijuana in public places, like parks, is allowed.
On Seventh Street in Minneapolis, people milled around with joints and open THC beverages Tuesday evening as part of the "7th Street Sesh," an event organized by local cannabis companies.
Conor Rzeszutek, 33, is excited about the expanded options legalization will bring. Smoking a blunt on Seventh Street, he said he quit drinking alcohol, and that marijuana has been a healthier option for him.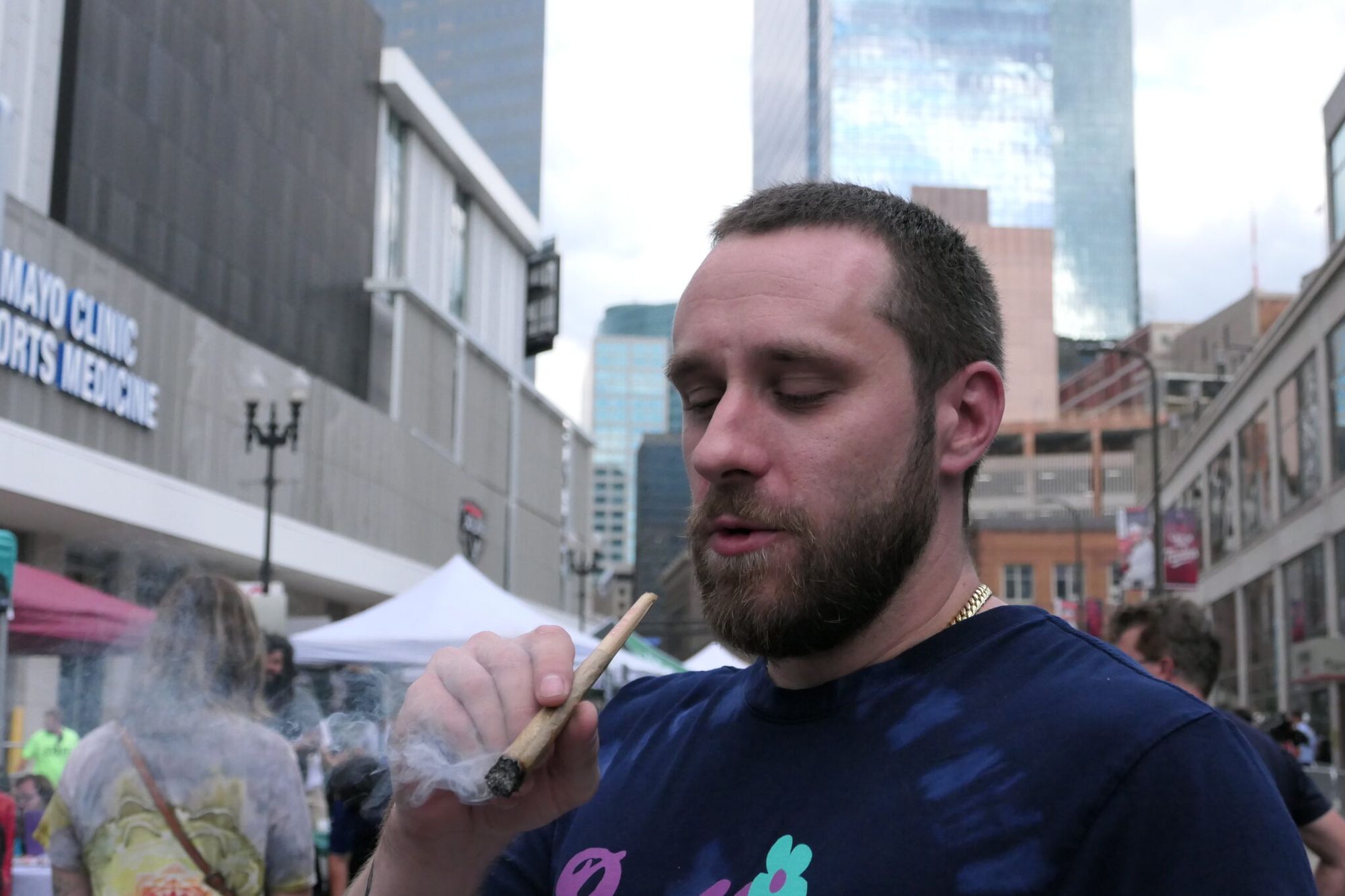 Around him, some vendors handed out free samples of their THC gummies. Others sold glassware for smoking, CBD products, marijuana-themed merchandise and cannabis seeds.
In Loring Park, Ernest Richardson and Pete Jones shared chicken wings in the shade near the playground. Both smoke marijuana in the park regularly, but "not by the babies," Jones specified, gesturing to the children playing nearby.
Neither realized Tuesday was the first day of legalized recreational marijuana in the state — and they don't expect it to change their habits. Dispensaries will likely be too pricey, they said.
Reformer reporter Chris Ingraham contributed to this story.
Minnesota Reformer is part of States Newsroom, a network of news bureaus supported by grants and a coalition of donors as a 501c(3) public charity. Minnesota Reformer maintains editorial independence. Contact Editor Patrick Coolican for questions: info@minnesotareformer.com. Follow Minnesota Reformer on Facebook and Twitter.
Comments