Hermantown football coach Mike Zagelmeyer acknowledged that last Friday's 28-21 home loss against North Branch, the Hawks' first loss of the season in three starts, was a difficult pill to swallow, "especially when you know what they are going to do offensively and are unsuccessful in stopping it."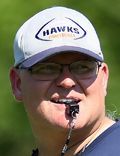 "Give credit to North Branch, they are very good at what they do offensively, but we have to be better in some areas -- especially outside the tackle box," Zagelmeyer said afterwards. "They had 329 yards on the ground and 0 yards passing, which kind of told the story of the game. We needed to get their offense off the field and we didn't do it -- whether it was penalties or missed tackles or other technique mistakes."
North Branch improved to 2-1 overall, 2-0 in the Northeast Red, and the Hawks slipped to 2-1 and 2-1.
"I thought we did some nice things offensively again this week, especially in the passing game where Alex (Schott) went 19-24 for 211 yards with a couple of TDs," said Zagelmeyer. "However, we need to be able to have more success on the ground where we only gained 50 yards -- and I am not sure when a Hermantown team has done that in the past. So we will try and make sure we are much better there this week."
The Hawks will play host to Grand Rapids (2-1, 1-1) at 7 p.m. Friday at beautiful Centricity Stadium. The Thunderhawks defeated visiting Rock Ridge 27-6 last Friday night.

"Things will not get any easier for us (versus Grand Rapids)," said Zagelmeyer. "We have always had some great games with Rapids over the years and I would expect nothing different this year.  I am excited to see how we respond after such a disappointing loss, and I believe this team has it in them to be really successful moving forward and bounce back after Friday night."
NORTHEAST RED GAMES FRIDAY
Grand Rapids (2-1, 1-1) at Hermantown (2-1, 1-1)
Mora (0-3) at North Branch (2-1, 2-0)
Duluth Denfeld (3-0, 1-0) at Duluth East (1-2, 0-1)
Rock Ridge (1-2, 0-2) at Cloquet (1-2, 1-1)
HAWKS REMAINING REGULAR SEASON GAMES
Friday -- home vs. Grand Rapids
Sept. 29 -- at Rock Ridge
Oct. 6 -- at Duluth East
Oct. 13 -- home vs. Esko
Oct. 18 -- home vs. Denfeld
Hawks Notebook -- Schott rushed for a team-high 31 yards against North Branch, in 10 attempts ... Wide Receiver Peyton Menzel, a Bulldogs recruit, had seven receptions for 97 yards, and running back River Freeman had a pair of receptions for 54 yards (27 yards per catch average).
. . .
Hermantown girls tennis coach Jessica Worden said she couldn't be more proud of star player Campbell Amundson for her dedication to continue to push herself and lead her team.

"Campbell has battled her way up to No. 1 singles," Worden said Monday, as the Hawks prepared for a 4:15 match against powerful Duluth East at Longview Tennis Club in East Duluth.

Last year was Amundson's first season on the varsity team when she competed in No. 4 singles, Worden said.

"Campbell is becoming tougher and smarter every match," said Worden. "As a current junior, she will be a staple for us next year as well."

Senior captains Hannah Graves, Morgan LeValley and Kalea Homich are also elite doubles players, Worden said.

"They are strong, silent leaders, fabulous players," Worden said of the veterans. "They positively move around between one and two doubles to give the team the best chance to win. I know that I can count on them to bring everything they have regardless of what position and who their partner is that day. They truly sum up what it is to put the team first."

The Hawks will play host to Cloquet in a Lake Superior Conference match on Wednesday, at 2:30 p.m., and visit Duluth Marshall at 4:15 p.m. Thursday.

Hermantown will also host Hibbing next Monday, Duluth Denfeld Tuesday and Superior Thursday.

"We are heading into our last two weeks of our regular season with still many matches to go," said Worden. "I look forward to our team to continue to grow, learn and support each other through the playoffs.".

Comments