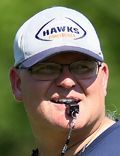 This Friday, during halftime of its homecoming game against Esko, Hermantown Football will induct former player and coach Daryl Illikainen into its prestigious Hermantown Football Hall of Fame. Gametime is 7 p.m. Coach Illikainen started his football career at Hermantown middle school as a 7th grader. He has a lot of great memories of friends, coaches and the great lessons that football taught him throughout the years at Hermantown.
During Coach Illikainen's coaching career he tried to share and practice those same values and work ethic that his mentors like Coach Gary and Randy Bowen, Frank Russ and Tom White taught him.
As a player, Coach Illikainen began his varsity career by traveling as a sophomore and snapping for extra points and punts on the 1981 state second place team. This season was one of Coach Illikainen's best memories of Hermantown football as a player. After that first season, Coach Illikainen was a two year starter for the Hawks his junior and senior years. Acting as a captain his senior year and with the team having good success at 7-1, Coach Illikainen was named as an All-conference player.
Coach Illikainen's playing career didn't stop there. He went on to earn a full scholarship to play for the Bison at North Dakota State University. His greatest memories as a three-year starter were winning three national championships, especially the one his senior year. After N.D.S.U., Coach Illikainen is humbled to say that he was invited to the NFL combine camp, and signed with the Houston Oilers in 1989. Even though his experience only landed him three pre-season games with the Oilers prior to being released, the opportunity, experience and friendships along the way were priceless.
Coach Illikainen's coaching career began soon after finishing his playing career. While student teaching in North Fargo, Coach Illikainen served as the head coach of the 7th grade football team for two years. Coach Illikainen's goal in teaching and coaching was always to some day get back to his alma-mater. His next stop in coaching after moving back home in 1991 to Hermantown was the head football coach for four years at The Marshall School in Duluth. Then in 1995, the opportunity and goal became a reality. In 1995, Coach Illikainen accepted a teaching position at Hermantown and volunteered as an assistant coach for football his first year under head coach Randy Bowen.
After one season under his former coach, Randy Bowen, Coach Illikainen's dream became true: becoming the Hawks 6th head coach in 56 years. Coach Illikainen's excitement also came with a lot of nervousness having to follow in the footsteps of such great coaches and people. He was humbled for the opportunity, and it became clear that he had to work hard to keep the Hawks program thriving as he took over a strong, healthy program and tradition.
In his first year as head coach he inherited a team that had an undefeated regular season, won the conference and section championships, and wound up being a state quarterfinal participant.
In his 22-year career at Hermantown, Coach Illikainen led the team to 7 conference championships, 4 undefeated regular seasons and 4 state appearances.
Coach Illikainen gives most of the credit to all his assistant coaches throughout the years – Mike Sweeney, Dale Mundle, Randy Bowen. Tad Forsell, Mike Zagelmeyer, Todd Bergstedt, Tom White, Kurt Zuidmulder and Tyler Homstad.
In 2005, Coach Illikainen started Hermantown's 4th, 5th , and 6th grade flag football program, which still continues today. Coach Illikainen prided himself in being involved and continuing to build Hermantown's youth football program.
Coach Illikainen's best memories of Hermantown football were all the athletes that he coached, his coaches throughout his playing career and coaching career, and the friendships that will last a lifetime. A special memory is being able to coach his son Chad in high school in both the fall of 2012 and 2013.
Coach Illikainen would like to thank his family for also putting in the time and allowing him to live his dream of coaching the Hawks. A special thank you to his high school sweetheart and wife Joy of 34 years for her dedication and support.
Coach Illikainen's career coaching record  was 153 wins and 97 losses.
Comments