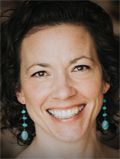 Today the nation's largest, most diverse union endorsed Duluth Mayor Emily Larson for re-election. With 1.2 million members across the nation, the Teamsters are known as champions of labor from freight drivers to warehouse workers. After meeting with both Mayor Larson and her challenger, Teamsters Joint Council 32 released their unanimous support for Mayor Larson.

Mayor Larson's advocacy for strong Project Labor Agreements in the region has set the standard for the state and has protected over 2 million work hours with 156 different projects in Duluth.
Mayor Larson's re-election campaign has also received the endorsement from the Duluth DFL, the Duluth Building and Construction Trades Council, IBEW (International Brotherhood of Electrical Workers), the Carpenters (North Central States Regional Council of Carpenters), Plumbers and Steamfitters Local 11, EMILY's List, Women Winning as well as a variety of many local community leaders, including the majority of the current School Board, City Council, and St. Louis County Board Members.
– Source: Larson press release. Note: The Duluth Times publishes campaign press releases as a public service to its readers.
Comments