By Craig Peters
Vikings tight end Ben Ellefson has retired from playing in the NFL.
The Hawley, Minnesota, native announced his decision via his Instagram account on Thursday.
"Thank you football for the people you've brought into my life and the opportunities you've given me to pursue my dreams to the fullest," Ellefson wrote. "I've been blessed on my path to have people who believed in me, which has drowned out those who doubted. So, thank you believers, for the chances you've taken on me, helping and supporting me in my drive to give this game all I could and to reach my fullest potential. The list is long and I am fortunate.
"Injuries are part of the game and although they are a big reason for me moving on, I am fortunate to be in a spot where I can still walk away from the game as a player, ready to tackle whatever is next in my life," Ellefson added.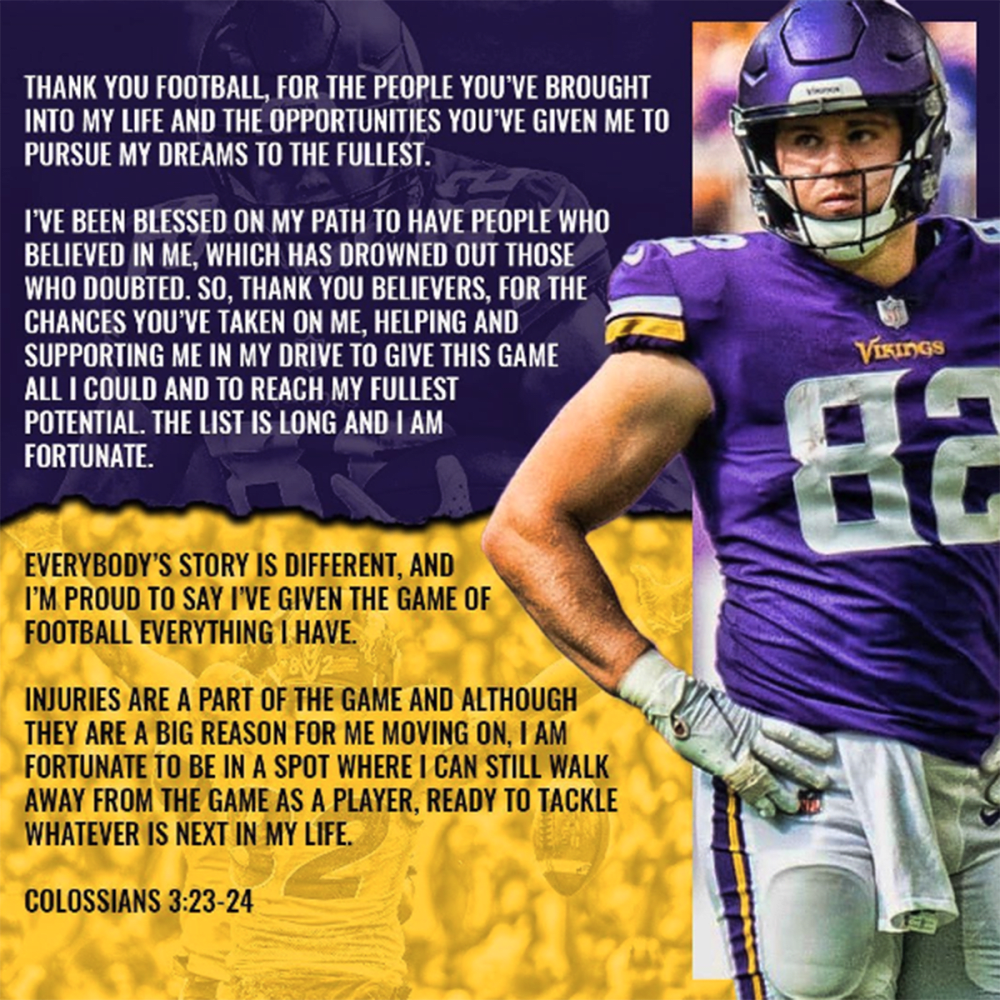 He closed his post by referencing Colossians 3:23-24 from the Bible.
Ellefson totaled five starts in 16 games played from 2020-22 with the Jaguars and Vikings but landed on Injured Reserve in each season.
He joined Jacksonville as an undrafted free agent out of North Dakota State in 2020 and made four starts in seven games played during his rookie season.
Ellefson signed with Minnesota after he was waived by Jacksonville during roster reductions in September 2021.
He played in five games for Minnesota on offense and special teams in 2021. Ellefson returned to action to play four games and make one start for the Vikings in 2022. He caught three passes for 26 yards but primarily played a blocking role. He was placed on Injured Reserve in October and tried to return to action but was unable to do so.
Comments