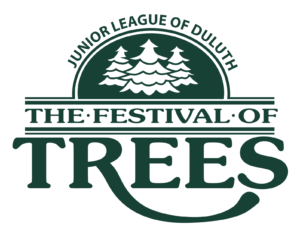 As the weather turns chilly and people start to think about the holiday season, the Junior League of Duluth will host it's popular Festival of Trees arts, crafts and gifts show at the DECC on Saturday and Sunday, Nov. 11 and 12. Festival of Trees has become one of Duluth's largest "pop-up" shopping experiences and is more popular than ever with a decline of shopping malls and brick-and-mortar retail.
Last year there were over 140 retail vendors and non-profits selling handcrafted gifts and foods, home goods and décor, professional art, jewelry, books, clothing, health and beauty products, and more. There is something for everyone. And of course, the most popular guest is Santa Claus, who will once again be on hand to supervise the festivities and take free photos with his fans.
Junior League of Duluth's Festival of Trees is a non-profit fundraiser that gets its name from their holiday tree auction. Every year, JLD members creatively decorate miniature holiday trees to display and auction at this event. Proceeds go to support JLD's mission as an organization of women committed to advance women's leadership for meaningful community impact through volunteer action, collaboration, and training.
JLD's Festival of Trees began in the 1980s in the basement of a church as a simple craft vendor show. Today, it has expanded to fill two floors of the City Side Convention Center at the DECC.
"We had over 6,000 visitors at last year's Festival of Trees. Many of our attendees come back year after year to see what's new and to get a head start on their holiday shopping," said JLD President Angela Engblom. "It's a very festive environment made even better knowing it supports many local causes."
Tickets are purchased at the door and the cost is $6 on Saturday, Nov. 11 from 9 am to 5 pm; and $4 on Sunday, Nov. 12. from 10 a.m. to 3 p.m.
Donating a non-perishable food item either day will provide a $1 discount, with all foods being donated afterward to Second Harvest Northern Lakes Food Bank. Historically this event has collected up to 3,500 pounds of food. Parking at the DECC is $10 for the day.
Additional information about the Junior League of Duluth may be found at JuniorLeagueDuluth.org.
Comments